Välkommen till Ekerlids Förlag
Vill du utvecklas som ledare och chef, eller kanske fördjupa dig inom affärsvärlden? Hos oss på Ekerlids Förlag hittar du ett stort utbud av affärslitteratur, managementböcker och ledarskapsböcker som ger dig verktyg att kunna utvecklas. Vi har mer än bara affärsböcker och managementböcker, vi säljer även intressanta memoarer och biografier samt böcker som tar upp politiska ämnen. Väl inne på böckerna hittar du länkar till återförsäljare där du enkelt och smidigt kan ställa in dem online.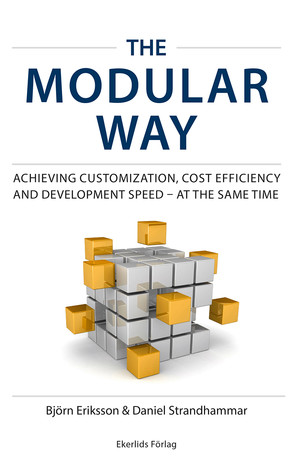 The Modular Way -achieving customization, cost efficiency and development speed - at the same time
In today´s globalized business, competition among industrial companies has become increasingly challenging with rapidly evolving technology, quickly changing customer behavior, and accelerated product lifecycles.
To survive, companies need to master product customizations, launch great products quickly, and be cost-efficient all at the same time. Modularization is the solution for industrial companies with ambitions to improve their competitiveness significantly.
A modular way of working has many advantages, and the concept is straightforward. However, getting to a state where your company can harvest the benefits can be difficult.
The Modular Way explains the concept of modularization and the how-to. It is a comprehensive and practical guidebook, providing you with inspiration, a framework, and essential details to succeed with your journey.
Indulge in best-practice and exclusive insights from some of the world s leading companies. Read about how Scania has achieved 60 years of profitability, how Electrolux managed to reduce product costs by 20% and how Vestas has improved its competitiveness in renewable energy. Use the knowledge to achieve greater results faster!
The authors Björn Eriksson and Daniel Strandhammar are founders of Brick Strategy, a consulting firm specialized in modularization. They have gained extensive experience from implementing modularization at leading industrial companies, substantially improving their financial results. Over the years, the authors have had the privilege of working globally with well-known companies such as IKEA, Volvo, ABB, Ericsson, Whirlpool, Tetra Pak, Assa Abloy, Haier, Vestas, DeLaval, and Ashok Leyland.