Välkommen till Ekerlids Förlag
Vill du utvecklas som ledare och chef, eller kanske fördjupa dig inom affärsvärlden? Hos oss på Ekerlids Förlag hittar du ett stort utbud av affärslitteratur, managementböcker och ledarskapsböcker som ger dig verktyg att kunna utvecklas. Vi har mer än bara affärsböcker och managementböcker, vi säljer även intressanta memoarer och biografier samt böcker som tar upp politiska ämnen. Väl inne på böckerna hittar du länkar till återförsäljare där du enkelt och smidigt kan ställa dem online.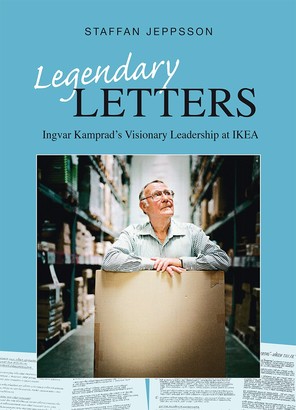 Legendary Letters - Ingvar Kamprads Visionary Leadership at IKEA
Staffan Jeppsson has managed very well to describe my father s leadership style in Legendary Letters . The handwritten letters and Staffan s comments reveal my father s way of thinking and thus what he considered to be important. Coworkers and customers in focus, togetherness, respect, simplicity and common sense were honourable keywords to him, which is nicely conveyed throughout the book. I enjoyed reading it and I believe my father would have too.
Jonas Kamprad
Legendary Letters Ingvar Kamprad s visionary leadership at IKEA gives a unique insight into Ingvar Kamprad s down-to-earth leadership through this publication of a selection of significant business letters written by Kamprad himself.
Together we are stronger! Be careful with costs! Always set a good example! Kamprad s leadership was primarily about showing respect and trust in employees. He was personable, present and inclusive the lessons to be learned from his leadership are as important in today s digital world as they were back then.
The book s author, Staffan Jeppsson, was Kamprad s executive assistant for six years in the 1990s. Each individual, handwritten letter is followed by a transcript and an in-depth commentary from the author. In addition, a series of entertaining little stories paints a more personal picture of the visionary Kamprad with warmth and clarity.
Kamprad shows the reader in his own words how the humble, common sense attitudes of a modest man from the rural backwoods of Småland in southern Sweden are transformed on both a human and commercial level into passionate and visionary leadership leadership that today continues to shape the world s largest home furnishing company.